Pandavani
Pandavani is a traditional narrative singing style from the Indian state of Chhattisgarh. It tells the stories of the Pandavas, the five brothers from the Indian epic Mahabharata. The stories are sung in a local dialect and accompanied by a tambura (a stringed instrument) and a pair of wooden clappers. The main singer, or vidushi, is typically accompanied by a chorus and a harmonium player.
Pandavani is a centuries-old tradition that has been passed down through generations of families. It is typically performed by women and is considered a form of devotional music, as it tells the stories of the Pandavas, who are considered incarnations of Hindu gods.
The performance style of Pandavani is characterized by its emotive and powerful singing, precise rhythms, and deep understanding of the stories and characters of the Mahabharata. The performances can be quite dramatic, with the singer often acting out the characters and scenes as they sing.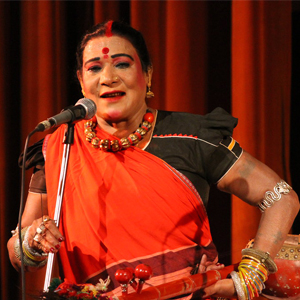 Dr Teejan Bai
Recipient of Padma Vibhushan, Padma Bhushan, and Padma Shri Awards
Renowned International folk singer and performer for Pandavani
Dastangoi
Dastangoi is the art of storytelling that developed around the stories of valour and adventures of Amir Hamza, an Arab hero, a thousand years ago. These stories became popular when they entered the Urdu canon and the art form reached its zenith in the 19th century North India. But with the demise of Mir Baqar Ali, the last known exponent of the art form, in 1928, the form also died with him. The modern revival is an effort of two gentlemen, SR Faruqi, the noted Urdu litterateur, and Mahmood Farooqui, who conceived the modern format of the art form.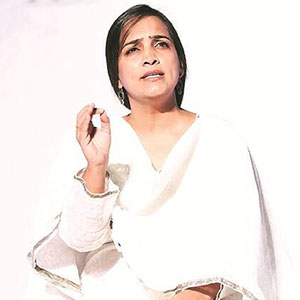 Poonam Girdhani
Dastango, Theatre & Film Actor
Rajesh Kumar
Dastango, Veteran Theatre Actor